Modular Belt Conveyors
Modular belt conveyors are an extremely robust solution for most transport applications. The belts are hard wearing, and with the correct specified material they can be used for transportation of sharp edged products. Consequently this makes them ideal for boning lines. The easy to clean design is the ideal solution for direct food applications, or areas where chemicals are used.
The positive drive on modular belt conveyors increases reliability. In addition, the materials and belt designs are ideal for wash down environment and allow of positive movement of products across the belt.
For advice & free quotations please contact us.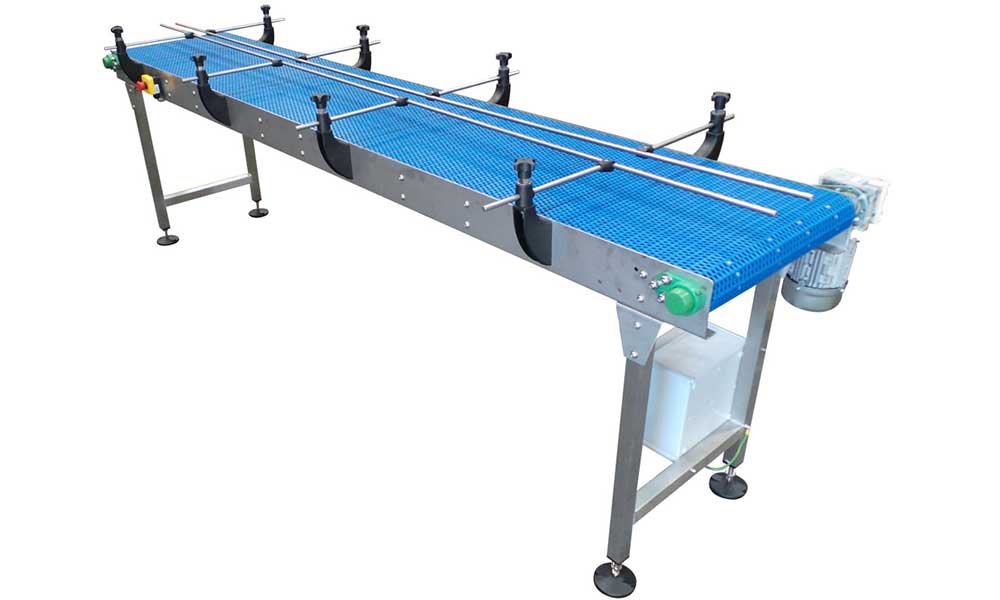 Medium duty modular belt conveyor
The 1″ pitch modular belt conveyor is available in straight running and also bend conveyors. The robust design makes this conveyor suitable for a wide range of industrial and food based applications.
Even though the conveyor is medium duty its robust design and high quality belt can be specified for high load applications.
With widths from 180mm to 2000mm and typical loads up to 500 Kg. (dependent on application.)
The conveyor Speed can be specified at time of order, from less than 1 m/min up to 30 m/min.
Smaller conveyors are also delivered fully wired ready to go, whilst larger more complex conveyor systems can be installed and commissioned on site.
Heavy duty modular belt conveyor
Designed and proven within the beef processing and heavy engineering industries.
The heavy duty modular belt conveyor is not only built to ensure even the most arduous of applications. It is designed to be reliable in operation and easy to clean. Along with straight forward to maintain. Ensuring minimum downtime.
The 2 or 2 1/2″ belt pitch is available in a variety of materials. Which can be matched to suit the application.
As with all conveyors, we offer good quality conveyors at a competitive price. This is in addition to a full installation service including out of hours where required. We also offer full manuals and food safe material documentation to complete your records.
Full conveyor maintenance service is also available on request.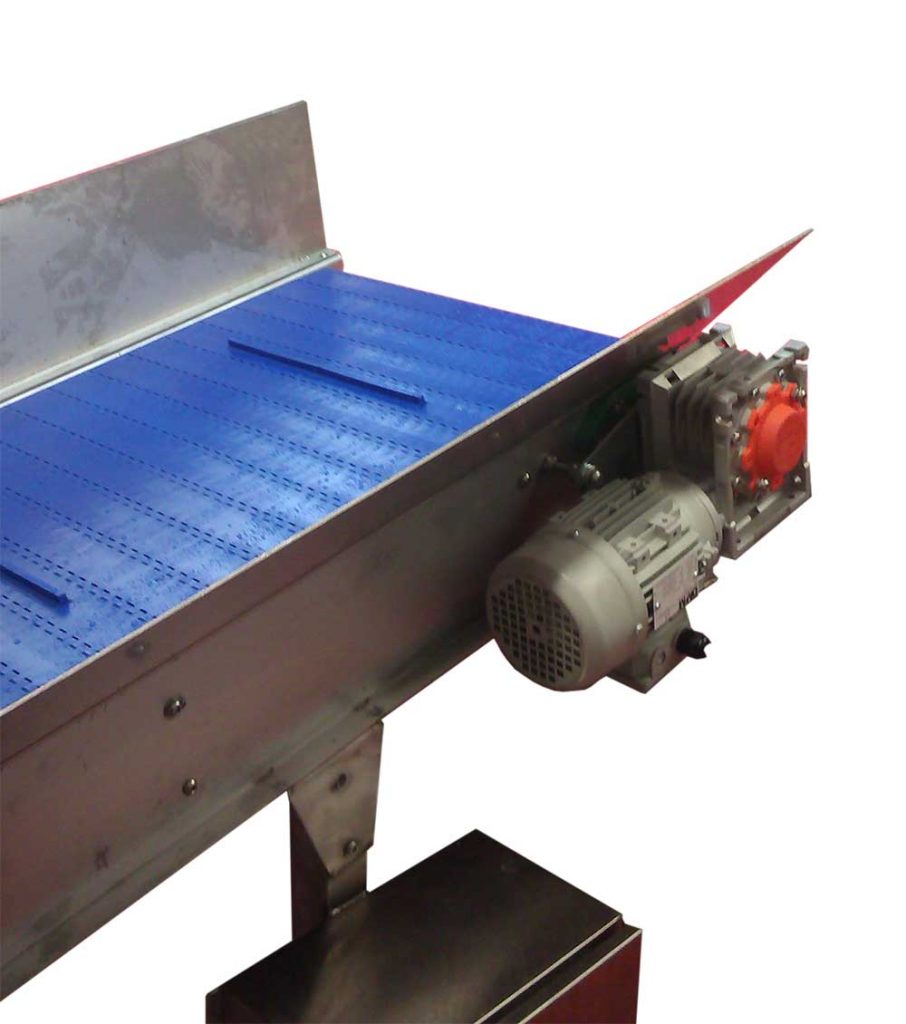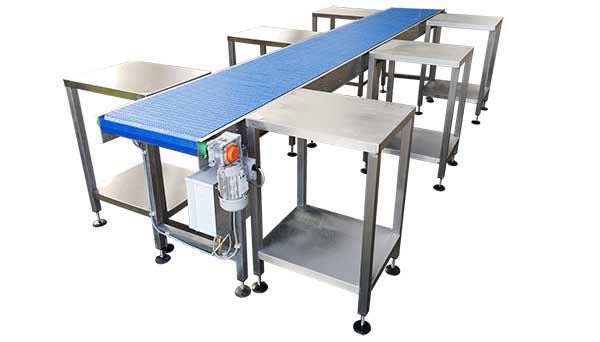 Food packing conveyors
Spaceguard manufacture well engineered modular belt conveyors, Ideal for integration within food packing lines.
The safe design, in addition to low maintenance and easy cleaning makes plastic slat modular belts the first choice when stetting up product packing lines. With frames manufactured from stainless steel and FDA approved belts.
Bespoke modular belt conveyors
Due to the robust and flexible features of modular belt conveyors, they can be incorporated for use within a wide variety of more bespoke applications. Please contact our sales team to discuss your requirements. As a business we work with our customers to design and manufacture bespoke solutions to customer process problems. Included with this are custom design modular belt conveyor workstations ideal for manual packing and weighing of products from process line into carton. These units can also be manufactured to be height adjustable for ease of use.

Modular Conveyor Gallery
To discuss your application please contact our sales team.
Phone: 01482 426914
Email: sales@conveyorsystems.co.uk