Mezzanine belt conveyors
Phone: 01482 363445
Used for the transportation of unit loads up and down from mezzanine floors to ground level. Spacegaurd Mezzanine belt conveyor provides a smooth, safe transport method for uniform and non uniform loads.
Manufactured to suit your specific floor and product dimensions. This type of belt conveyor provides a safe and efficient method of the transporting of goods inter-floor.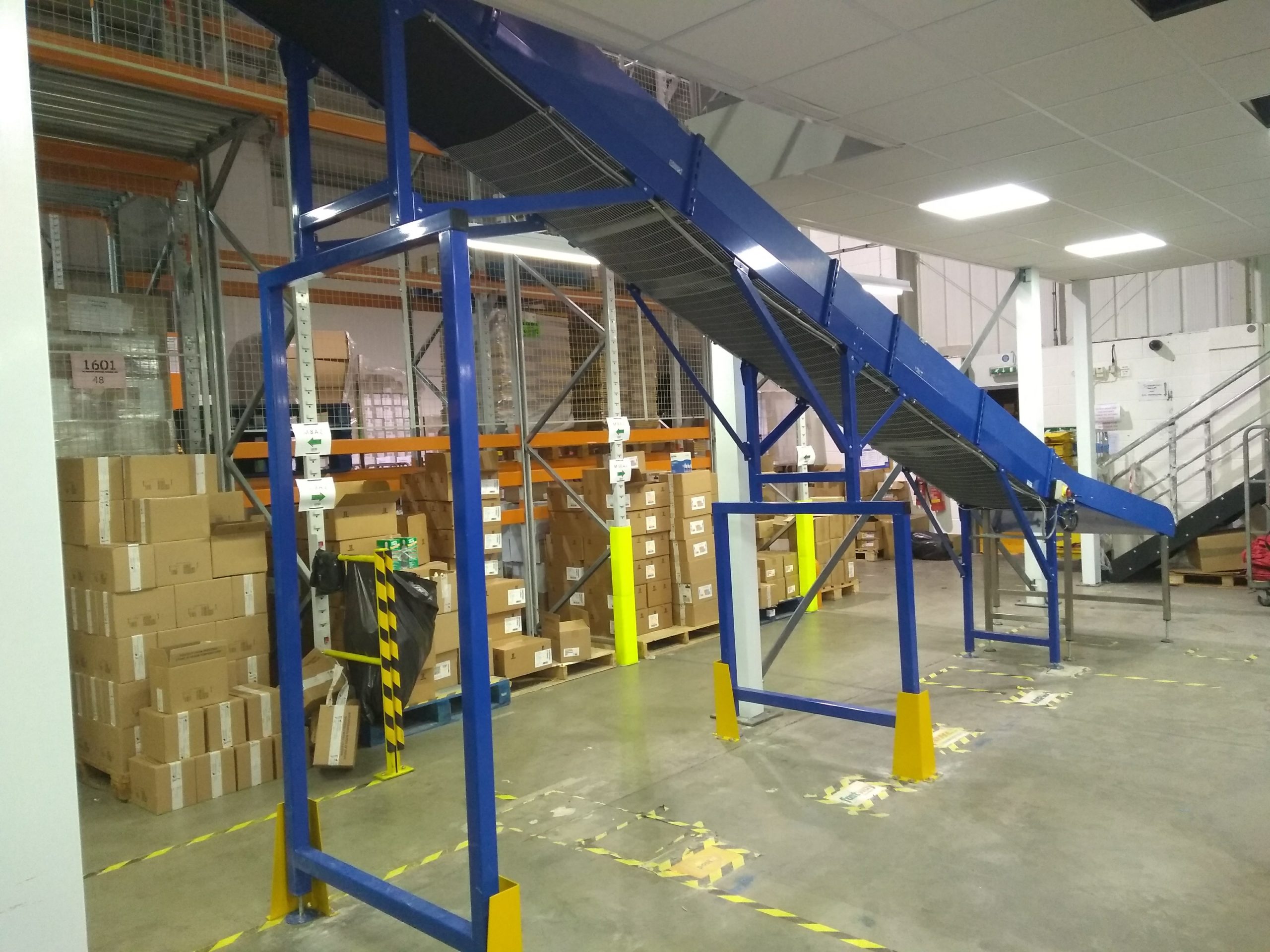 Conveyor Layout
The normal layout of a mezzanine belt conveyor, is dependent on the products been conveyed and whether you require items to travel in both directions. Normally for both you would use a horizontal conveyor at the bottom. This allows the product to be conveyed smoothly on and off the incline section. (If rollers where used for this section the item would get stuck in the rollers. At the top of the incline conveyor. It is also preferential to use a horizontal belt conveyor, rather than simply a gravity roller conveyor. This allows a little more control of items on the conveyor belt.
Construction
Motor: Dependent on length and direction of travel. These type of belt conveyors have will have either an end roller drive. (If the conveyor is short enough) Or an underslung centre drive. (Used for longer conveyors – These are also ideal for bi directional conveyors). The motor on this type of incline conveyors should always have a brake fitted – or if only used for uphill conveying, a backstop. Both of these are to stop the conveyor rolling backwards if the stop button is pressed.
Belt: The normal belt on a mezzanine is either to rubber or PVC Gripface belt. This gives the increased friction to keep the product in place on the conveyor.
Frame: Manufactured from a folded and fabricated mild steel. The slider bed and side guides are designed to be robust to enable product to stay on the conveyor.
Mezzanine conveyor calculators
The angle of incline conveyors depends on the box size conveyed.
The normal maximum recommended incline would be around 23 – 24°. Before the product starts to slip backwards on the belt.
Assuming uniformly distributed products.
Conveyor length calculator
Enter all known variables (sides a, b and c; angles A and B) into the text boxes. To enter a value, click inside one of the text boxes. Click on the "Calculate" button to solve for all unknown variables.
Spaceguard are an ideal partner for your conveyor requirements. Offering a full design, manufacturing and on site installation service.
Please contact our sales team with your conveyor requirements: Phone: 01482 363445 or email: sales@spaceguard.co.uk
Other products manufactured in the UK by Spaceguard