Home » Custom Conveyor Solutions
Custom Conveyor Solutions
We manufacture stand alone conveyors for integration as well as complete conveyor systems
As UK based manufacturers of conveyor systems, we're able to provide a wide range of conveyors and automation equipment to suit any space and application..
We have industry-leading expertise in building reliable conveyors. Our in house design team can assist you in making sure your conveyors are purpose-built to suit your exact product requirements.
With a wide range of conveyor material options and additional work area enhancements, the perfect bespoke solution can easily be achieved.
We can design and manufacture a complete bespoke solution to meet any project requirements.
All equipment is UKCA or CE marked.
Please contact us with your enquiries.
Conveyor solutions custom made to order
We work with you to manufacture conveyors to suit your application
Built to Suit Your Products
Our highly experienced sales & technical design teams will be happy to ensure all products are specifically suited to your product or batch sizes.
Heavy Duty Options
For transporting large or heavy goods, including pallets, we offer a number of heavy duty solutions. We also provide conveyors suitable for vehicle loading and unloading, such as extending and flexible conveyors.
Food & Pharmaceutical Safe
Where food and pharmaceutical industries are concerned, we can manufacture products using stainless steel and modular belting to allow for thorough maintenance and cleaning. All materials used are chosen to comply with strict hygiene regulations.
Packing Conveyor Specialists
Overall we are a manufacturer of efficient and affordable conveyor solutions that enhance your working environment and improve your workflow. We specialise in providing bespoke packing and process solutions for a wide range of industries and applications.
Bespoke Packing Stations
Packing stations can be built alongside or integrated into your packing conveyor solution. Our robust packing benches can be provided with inbuilt packaging cutters, roll holders, lighting, PC & peripheral mounting, and also packaging storage.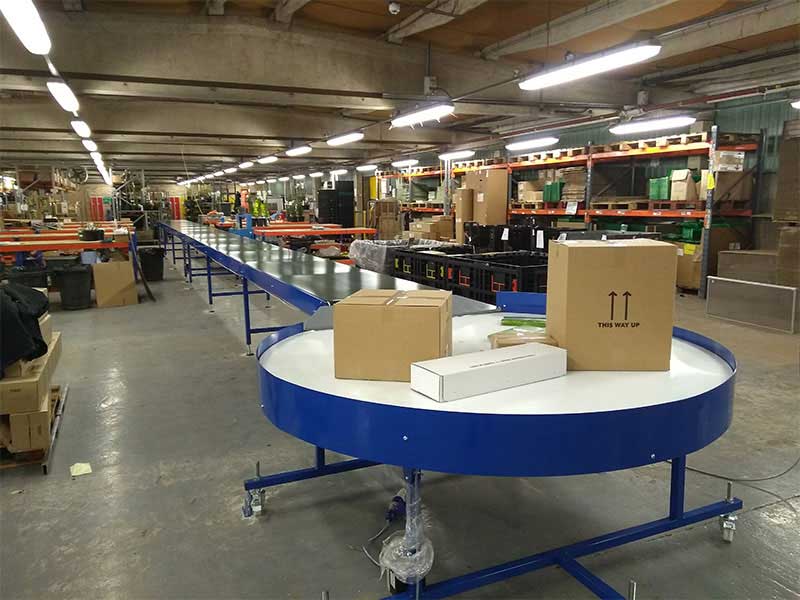 Get a FREE Custom Conveyor Quote today
We are the leading UK manufacturer of custom conveyors
Email sales@conveyorsystems.co.uk with your enquiries
Working With Us
SPG Conveyors are used daily by a wide range of third-party logistics, manufacturing, food production, and product assembly businesses in the UK.
We offer tailored solutions to suit our customers' needs:
Subcontract conveyor manufacturing
Happy to work with resellers and OEMs
If you need modular conveyors for your business then please contact us by phone, email, or try out the live chat feature for a free no-obligation quotation.
Call:01482 363445
Email: sales@conveyorsystems.co.uk