Conveyor control panel
The conveyor control panel range from Spaceguard is produced to suit application specific requirements.
We manufacture straight forward variable speed and remote stops through to more complex PLC operated conveyor systems.
Spaceguard is able to offer the electrical installation of all conveyor equipment supplied.
For advice & free quotations please contact us.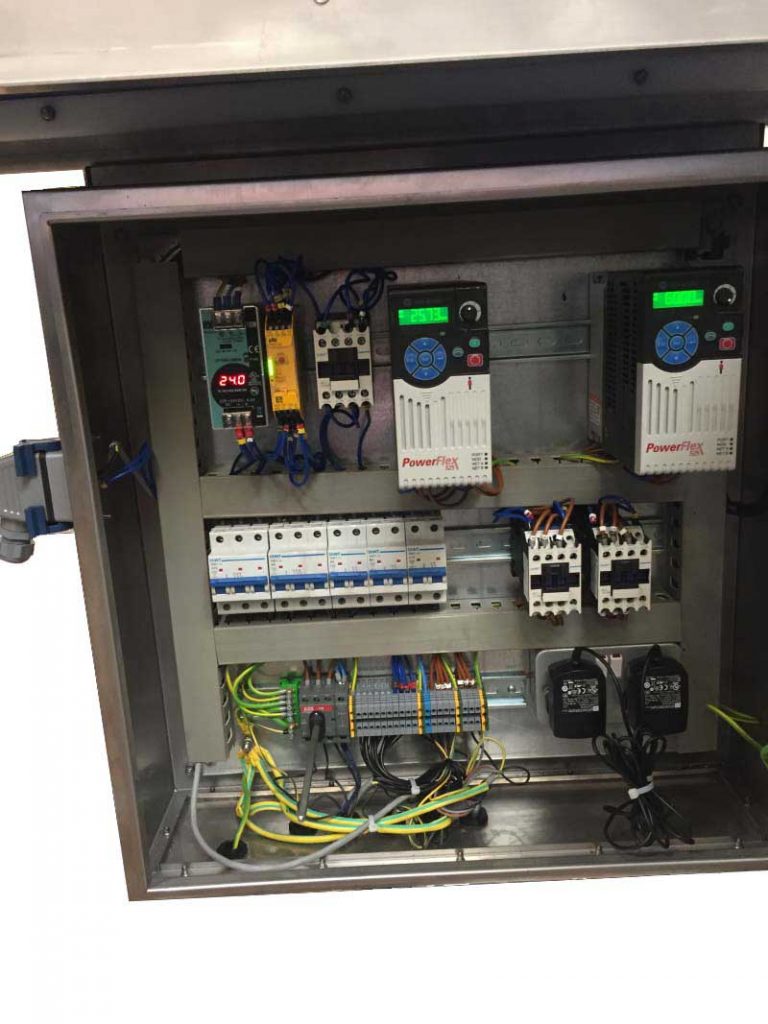 Simple conveyor control panel
The most common requirement is a simple start / stop control.
We would normally include an additional variable speed control. This allows the speed to be adjusted to match conveyor or process equipment, up or down stream.
The addition of inverter drives within panels also provide a number of other benefits such as motor current protection.
PLC conveyor control panel
PLC control for more complex conveyor functions, such as converging conveyors or more complex conveyor systems. Spaceguard is able to provide a turn key package from conveyor equipment and panel design through build. To installation and commissioning. Please contact our sales team to discuss your requirements.
Safety equipment
Most basic conveyors should carry at least a remote stop linked into the start / stop circuit. This coupled with the emergency stop function within the inverter is the bare minimum which should be adopted.
However within the panel for most complex conveyors an emergency stop safety relay and provision for safety interlocks can be added. This adds an additional layer of safety to any conveyor system thereby protecting users of the equipment.
Sensors and automation equipment
By using sensors to both control equipment safety functions the conveyor can be more productive. For example, a simple PEC on the end of the conveyor to stop the belt when a product reaches the end. Then automatically starts when the product is removed. These are often used with PLC's for more complex operations.
Please contact us with your belt conveyor enquiries.
Phone: 01482 426914
Email: sales@conveyorsystems.co.uk