Home » Conveyor Workstations
Conveyor Workstations
Conveyor Workstations UK manufactured by SPG Conveyors
Our range of conveyor workstations have been developed through many years of experience in manufacturing not only conveyor systems but also high-quality workbenches and packing tables. Therefore we are the ideal partner to meet your conveyor workstation needs.
Improper design of a workstation can increase the likelihood of workers developing musculoskeletal disorders (MSD). Any injury, disorder, or damage to the joints or tissues in the legs, arms, shoulders, or back is classed as an MSD. This type of injury is unfortunately common amongst workers employed for the manual handling of goods.
Injuries can be prevented by proper workstation design which reduces the need for repetitive motions and exerting force when lifting heavy objects. They also stop employees from overstretching, twisting, or leaning whilst working. The main benefit of an ergonomically designed work area is that the incidence of absence due to sickness or injury is decreased.
A correctly designed workstation is safer for your employees, your products, and overall improves efficiency and organisation.
All equipment is UKCA or CE marked.
Please contact our team with your enquiries.
Conveyor Workstations made to suit your needs
Our in-house design team is able to consider your work process, taking your existing production or assembly line arrangements into account and offer advice on the best option for a safe ergonomic workstation solution.
Where required we are able to offer on-site visits to assess your needs and review the current performance of your conveyor lines, from here we are able to propose solutions tailored to suit your environment.
We design workstations to suit the specific operations carried out, the conveyor workstation options cover a wide range of eventualities - workstations can be made to suit existing belt conveyors or roller conveyors.
We sell to industries including e-fulfilment warehouses, automotive assembly, industrial product assembly, electrical assembly, contract packing, general manufacturing, clean room applications, schools and colleges, and e-commerce sales.
For the food, drug and pharmaceutical industries we also offer hygienic and easy-to-clean stainless steel conveyor workstations.
As leading UK conveyor manufacturers, we have extensive experience in providing high-quality custom-designed conveyor workstations and conveyors.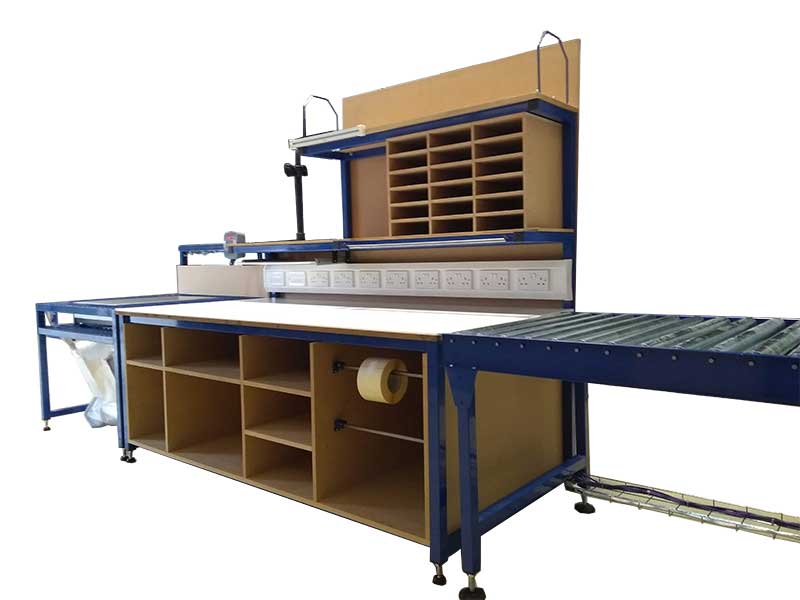 Get a FREE Conveyor Workstation Quote today
We are the leading UK manufacturer of Conveyor Workstations
Email sales@conveyorsystems.co.uk with your enquiries
Conveyor Workstation Gallery
All the conveyors shown below were manufactured for our customers in our UK based factory.
Working With Us
SPG Conveyors are used daily by a wide range of third-party logistics, manufacturing, food production, and product assembly businesses in the UK.
We offer tailored solutions to suit our customers' needs:
Subcontract conveyor manufacturing
Happy to work with resellers and OEMs
If you need modular conveyors for your business then please contact us by phone, email, or try out the live chat feature for a free no-obligation quotation.
Call:01482 363445
Email: sales@conveyorsystems.co.uk