Home » Modular Belt Conveyor
Modular Belt Conveyors
We manufacture stand alone modular conveyors for integration as well as complete conveyor systems
Modular belt conveyors are an extremely robust solution for most transport applications. The belts are hard-wearing, and with the correct specified material, they can be used for the transportation of sharp-edged products.
The easy-to-clean design is the ideal solution for direct food applications or areas where chemicals are used.
The positive drive on modular belt conveyors increases reliability, whilst the materials used in its construction are ideal for washdown environments.
We also manufacture conveyor belts with traditional flat belting materials.
All equipment is UKCA or CE marked.
Please contact our helpful sales team with your enquiries.
Technical Details
All modular conveyors are delivered fully wired and complete with manuals and food-safe materials information. Alternatively, you can request installation from our experienced installation engineers. Click here to learn more about how modular belt conveyors work.
Conveyor Details
Min/Max Length:
500mm - 10,000mm
Min/Max Width
150 - 2000mm
Min/Max Height:
130 - 1500mm
Frame material:
Mild Steel (Powder coat paint finish)
Stainless Steel
Supports:
Welded 'H' section - with levelling feet or castors
Drive Type: 
Geared motor (end-drive)
End Diameter:
100mm
Load Rating: 
Up to 100kg per meter
Belt Details
Materials:
Polypropylene (PP)
Polyethylene (PE)
Acetal, Polyacetal (POM)
Belt Types:
1/2", 1" , 2" pitch
Open or closed pitch
Side flexing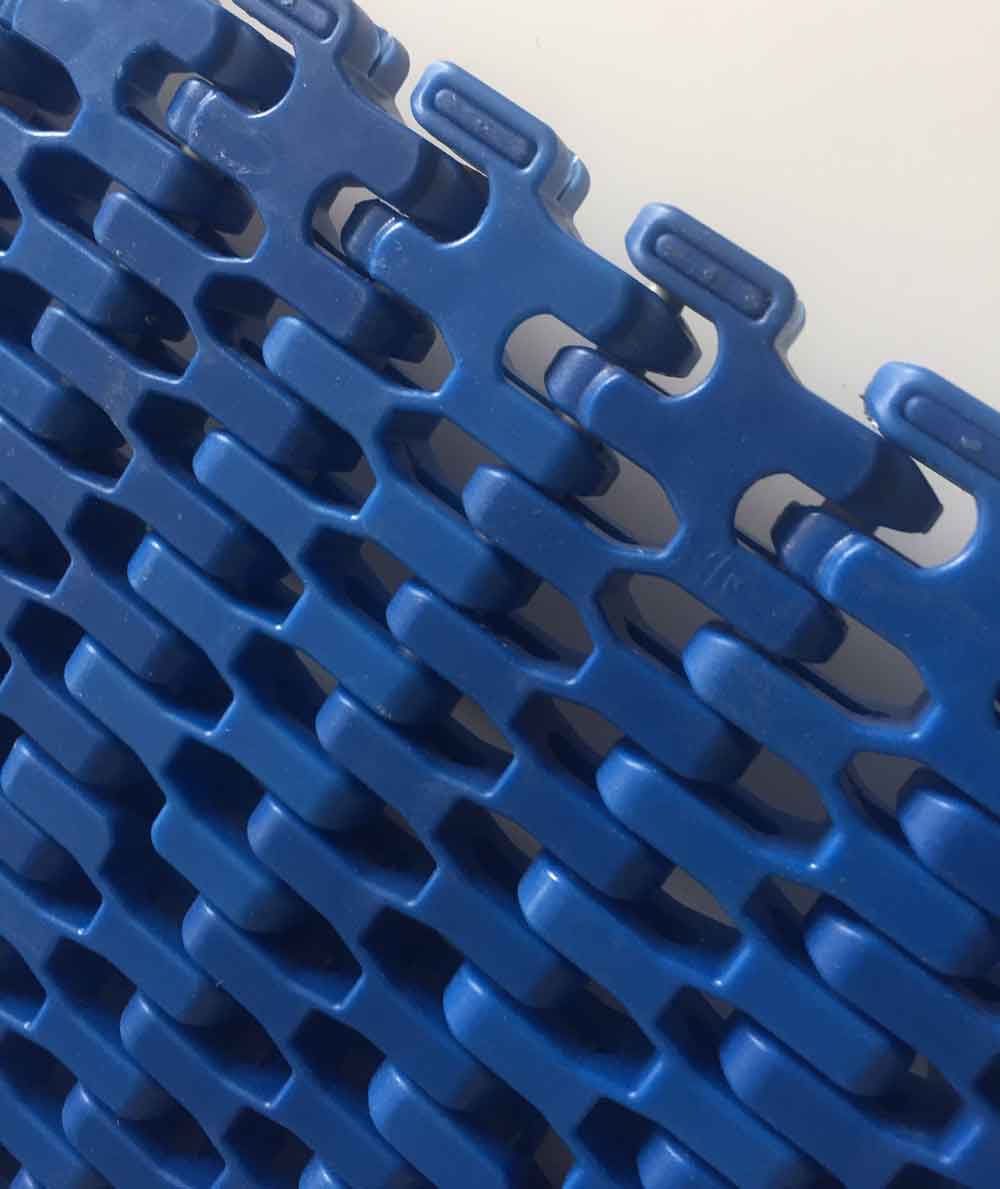 Plastic modular belting has a range of benefits including:
Extremely robust and resistant to wear
Can be used to transport sharp edged items
Modular plastic belting is easy to install, repair, replace, and clean
Suitable for use in hot & cold environments (-50°C to 90°C)
Resistant to chemicals
Food safe
Positively driven using sprockets so the belt does not slip
Suitable for use in wet environments
Modular belts do not need to be tracked
Highly versatile, used for straights, bends, inclines, and declines
Sidewalls and flighted belts available
Available in many materials, colours, and finishes
Get a FREE Modular Belt Conveyor Quote today
We are the leading UK manufacturer of Modular Belt Conveyors
Email sales@conveyorsystems.co.uk with your enquiries
Application Example - Packing Conveyor
In this example, you can see the conveyor is used for transporting packaged food (cucumbers) so they can be packed into crates.
This conveyor system includes a belt conveyor to transport items through the hole in the wall and a twin-lane modular belt conveyor with side guides.
Modular belt conveyors can be used for both packaged and unpackaged food products as they are suitable for washdown and use in wet environments.

Application Example - Box Turning Conveyor
In this example, you can see the conveyor is used for turning boxes to the correct orientation ready for labelling.
This conveyor system features two modular conveyors with side guides set at right angles, an enclosed box pusher, and a turning wheel to gently turn the boxes prior to them reaching the outfeed.
These types of conveyors can save hundreds of hours of labour, increase overall efficiency in packing lines, and help improve the uniformity of labelling.
Modular Conveyor Gallery
All the conveyors shown below were manufactured for our customers in our UK based factory.
Working With Us
SPG Conveyors are used daily by a wide range of third-party logistics, manufacturing, food production, and product assembly businesses in the UK.
We offer tailored solutions to suit our customers' needs:
Subcontract conveyor manufacturing
Happy to work with resellers and OEMs
If you need modular conveyors for your business then please contact us by phone, email, or try out the live chat feature for a free no-obligation quotation.
Call:01482 363445
Email: sales@conveyorsystems.co.uk