Home » Roller Conveyors » Gravity Roller Conveyors
Gravity Roller Conveyors
We manufacture stand-alone gravity roller conveyors for integration as well as complete gravity roller conveyor systems
Gravity roller conveyors are ideal for moving unit loads including cardboard boxes, trays, crates, and totes. They are widely used across all types of manufacturing, warehouse and logistics applications.
We are a UK-based conveyor system manufacturer, and as such, we can produce gravity conveyors to meet your exact requirements. From a one-off gravity conveyor module to a fully integrated Lean packing and assembly workstation, we manufacture all roller conveyors to the highest quality.
For urgent requirements, we have a range of standard conveyors available for fast delivery to suit urgent requirements.
We also manufacture a range of powered roller conveyors for automated conveyor applications.
All equipment is UKCA or CE marked
Please contact our team with your enquiries.
Gravity Conveyor Features
All gravity conveyors are delivered fully assembled wherever possible - we can install your conveyors for you, just request installation when placing your order
We also stock a wide range of conveyor rollers ready for fast delivery.

| | |
| --- | --- |
| Conveyor Widths | To suit customer requirements |
| Conveyor Lengths | To suit customer requirements |
| Frame Material | Mild Steel (powder coated), Stainless Steel |
| Roller Materials | PVC, Stainless Steel, Zinc Plated Mild Steel |
| Roller Diameters | From 16mm |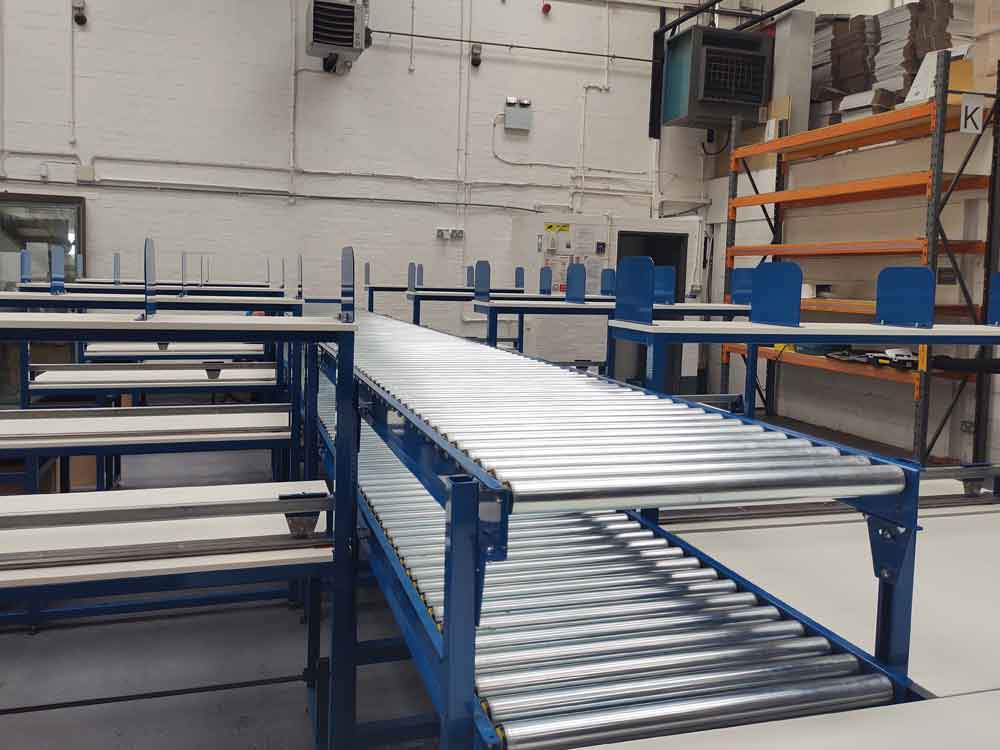 We manufacture Gravity Conveyors to suit any application
All conveyors are delivered fully assembled and ready for work or installed by our site team.
Simple transport gravity conveyors
Assembly workstations with gravity roller integration
Security gate & metal detector conveyors
Tray return conveyors
Roller Racking
Twin-tiered gravity roller conveyors
Drainage conveyors
Expandable and flexible gravity conveyors
Gravity roller conveyors for machine feeding
Bespoke made to order gravity conveyors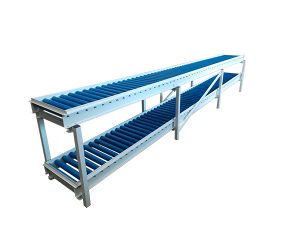 Twin Tier Gravity Conveyors
Twin tier gravity roller conveyors are ideal for use with trays and totes. For example, you can have a full tray on the top tier for processing and the bottom tier can be used to return empty trays at the end of the process.
These conveyors are often used within the assembly of security metal detection areas.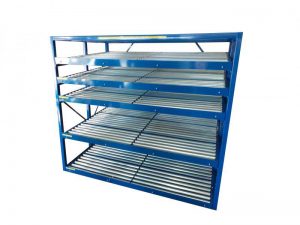 Gravity Roller Racking
Gravity roller racking provides an ideal solution for assembly cells and order fulfilment lines. It is up to 80% more productive than conventional static racking, this allows personnel to be more productive and reduces manual handling.
As a UK manufacturer, we are able to build first in first out or push backtracking types to suit your specific products.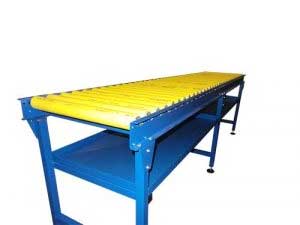 Special Application Conveyors
Roller conveyors can be used to manage fluid wastes such as coolants, de-greasing solutions or oils.
We have previously supplied special application conveyors for all types of applications, from processing aircraft wheels to machined engine parts.
Whatever your requirements, we build robust special application roller conveyors to suit your needs.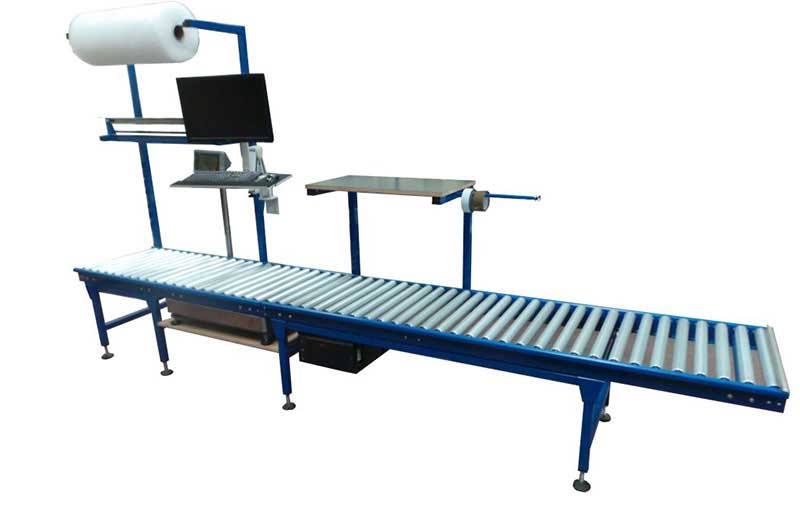 Gravity roller conveyors are ideal for inclusion in assembly or order fulfilment work stations as they reduce manual handling and improve personnel working ergonomics
With the inclusion of bespoke process equipment, including packing aids, scales, lighting and IT equipment, these units are designed to suit your specific requirements.
Each workstation is designed to suit your process, improve your productivity and reduce manual handling.

Get a FREE Gravity Roller Conveyor Quote today
We are a leading UK manufacturer of Gravity Roller Conveyors
Email sales@conveyorsystems.co.uk with your enquiries
Gravity Conveyor Gallery
All the conveyors shown below were manufactured for our customers in our UK based factory.
Gravity Roller Conveyors Manufactured to Order
We manufacture gravity roller conveyors in the UK to meet your specific requirements so please contact our team with your enquiries
This makes us your ideal design and manufacture partner for roller conveyor systems.
From small diameter rollers to heavy walled bespoke roller conveyor systems, we work with customers through the whole process of specification, design and manufacture.
Our aim is to deliver robust, reliable and productive conveyor systems to all our valued customers.
If you require gravity conveyors for your business then please contact us by phone, email, or try out the live chat feature for a free no-obligation quotation.
Call:01482 363445
Email: sales@conveyorsystems.co.uk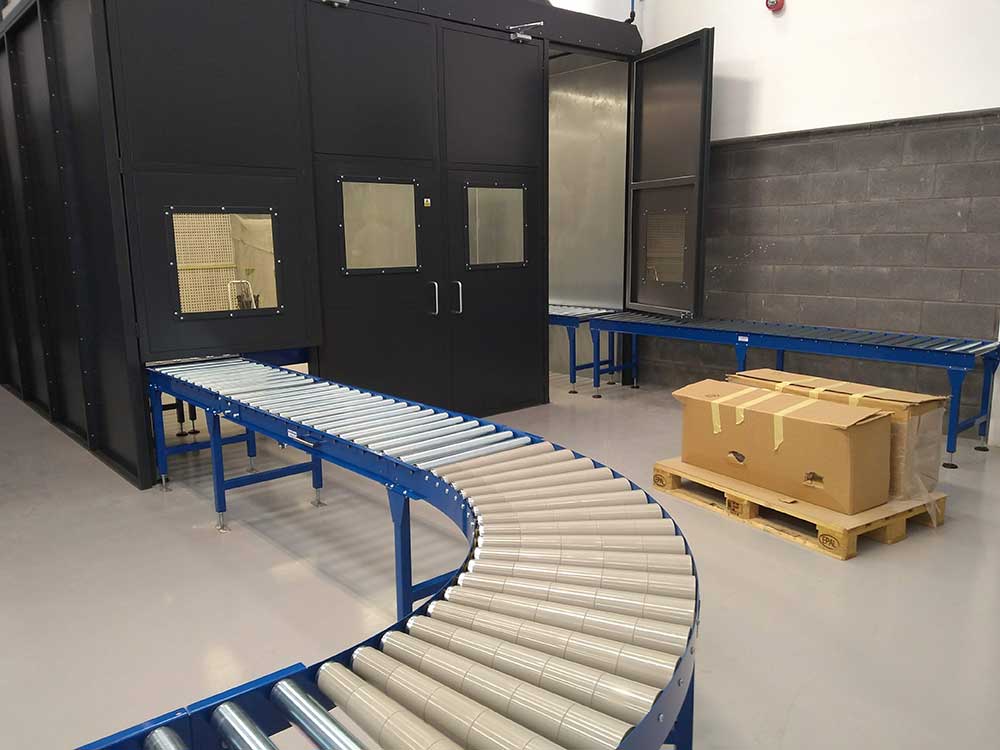 Working With Us
SPG Conveyors are used daily by a wide range of third-party logistics, manufacturing, food production, and product assembly businesses in the UK.
We offer tailored solutions to suit our customers' needs:
Subcontract conveyor manufacturing
Happy to work with resellers and OEMs
If you need modular conveyors for your business then please contact us by phone, email, or try out the live chat feature for a free no-obligation quotation.
Call:01482 363445
Email: sales@conveyorsystems.co.uk