Home » Roller Conveyors
Roller Conveyors
We manufacture stand-alone roller conveyors for integration as well as complete roller conveyor systems
Roller conveyors are integral to many warehouses, logistics and manufacturing businesses to improve the transportation of materials and products. They are cost-effective to run, easy to install & maintain, and help make the working environment safer for your employees.
As UK-based manufacturers of industrial roller conveyor systems, we're able to provide a wide range of both gravity and powered roller conveyors.
Each conveyor is made bespoke to order, however we have a large stock of roller conveyor parts & rollers ready for fast delivery.
From a one-off gravity roller conveyor to a fully integrated zero-pressure or zoned roller conveyor assembly or process line, we're sure to have a reliable solution to suit your business needs.
All equipment is UKCA or CE-marked and comes complete with operation manuals & safety information.
Please contact our helpful team with your enquiries.
Gravity roller conveyors are a low cost product or component transportation solution.
Roller diameters from 16mm up to 130mm
PVC, stainless steel, or zinc plated mild steel rollers
Suitable for flat bottomed cartons, trays, totes, boxes and drums
24V Powered Roller Conveyors are available for both fixed drive and accumulation solutions.
Versatile conveyor suited to many applications
User friendly, quiet, and low maintenance
An energy-efficient conveyor option.
Lineshaft Driven Roller Conveyors are suitable for moving light to medium weight products.
Low maintenance
Suitable for low-pressure accumulation
Reduce product damage
Chain-Driven Roller Conveyors are the most heavy-duty roller conveyor option and are ideal for transporting heavy pallets & drums.
Built to be hard-wearing
Reliable and easy to maintain
Customisation options depending on your application
Available as both driven or gravity roller varieties with choices of PVC, mild steel zinc plated or skate wheel rollers.
ideal for carton handling applications
Courier vehicle loading
Stores away compact whilst not in use to save space
These tables are fitted with gently rotating plastic or stainless steel rollers, producing maximum visibility of any product defects.
Widths from 500mm to 1200mm available
Reliable and robustly manufactured
Stand-alone unit or integrated within a process line
Get a FREE Roller Conveyor Quote today
We are a leading UK manufacturer of Roller Conveyors & Roller Conveyor Systems
Email sales@conveyorsystems.co.uk with your enquiries
Roller Conveyors are a versatile materials handling option
Our conveyors are used daily by some of the biggest third-party logistics, manufacturing, food production, and product assembly businesses in the UK.
We're also used to helping newer businesses that are just starting out. So whatever the scale of your business, SPG Conveyor Systems is always happy to help.
We offer tailored solutions to suit our customers' needs:
Warehousing & Logistics Transport Conveyors
Food & Drink Safe Conveyors
Factory & Production Line Conveyors
Sortation Equipment
Roller Conveyors FAQ
Get all the answers to your questions about Roller Conveyors as well as advice on how to choose the correct type for your application
How many types of roller conveyors are there?
There are many different types of roller conveyors available but they each fall into one of these main categories based on how the rollers move. A roller conveyor can either be powered or unpowered - the unpowered types use gravity or manual force to turn the rollers, whilst the powered varieties have motorised rollers or are driven by chains or bands. Below is a summary of the four main types of roller conveyors.
Gravity Roller Conveyors
Gravity roller conveyors are the cheapest and most straightforward type of roller conveyor. Generally consisting of a set of rollers or skate wheels mounted into two side frames with some type of support stand to set the rollers at the height required. The support stands can be height adjustable or made to a fixed height, mounted on height-adjustable feet or even on castors. The rollers do not contain motors or have anything driving them, they turn only using the force of gravity when installed on a decline, or manual force when installed level. These conveyors are often used to help move heavy or bulky items along assembly lines, or to feed into machinery. They are also regularly used for vehicle loading and unloading, the expandable and flexible gravity conveyors are popular in this application as they can be set up and positioned quickly and then moved away when not in use.
24V Powered Roller Conveyors
24V Powered Roller Conveyors are built in a very similar way to gravity roller conveyors with rollers mounted into two side frames, the difference is that a number of the rollers are motorised. These motorised rollers are joined to their adjacent idler rollers using O-ring bands, and when the motorised rollers spin, the friction from the O-ring bands turns the idler rollers. One big advantage of the 24V Powered Roller Conveyor is that the conveyor can be split into zones that can be controlled independently using drive control cards, allowing for banks of rollers to stop and start as required. As such, these conveyors can be very energy efficient and when paired with sensors, they are ideal for zero-pressure accumulation applications.
Lineshaft Driven Roller Conveyors
Lineshaft driven roller conveyors are also a type of roller conveyor that utilises bands to turn the rollers, however in this case the O-ring bands are attached to a drive shaft that runs along the length of the conveyor. Using this method all the rollers turn simultaneously at the same rate, so they are suitable for the continuous transportation of lightweight items. Lineshaft roller conveyors can be used for low-pressure accumulation as the o-rings can slip when any friction or pushback is met along the conveyor line. This also makes the lineshaft conveyor much safer than other types of driven conveyors as the rollers will stop turning if clothing or hands become stuck in the rollers.
Chain Driven Roller Conveyors
Chain driven roller conveyors are the most heavy-duty and robust powered roller conveyor option, and as such, they are commonly used for moving heavy and bulky items such as drums or pallets. The rollers each have sprockets that attach to chains which link the rollers in groups, and these chains are attached to a motor. There is no slippage or loss of friction so these conveyors are ideal for moving items of differing weights. It is extremely important to be careful around all types of conveyors, but especially so for chain-driven conveyors as they are very powerful and will not stop on their own if something gets stuck in the rollers.
What can roller conveyors be used for?
Roller conveyors are suitable for transporting items with a flat rigid bottom as if an item is soft or bendable it may sag or get stuck in between the rollers. For this reason, when transporting poly bags, sacks, jiffy bags, and small items it is better to use a type of belt conveyor or place these items into totes, trays or crates.
What are the benefits of using roller conveyors?
Roller conveyors are extremely versatile and can be combined in a modular fashion with other types of conveyors such as belt, modular and slat conveyors to create both simple and complex conveyor systems.
They are relatively easy to install and have very low maintenance requirements as individual rollers can be swapped out and replaced with ease.
Gravity conveyors have no power requirements so they're extremely economical, whilst 24v powered roller conveyors can be set up to run only as required so they are very energy efficient.
Using a roller conveyor to improve material & product transportation can make the workplace safer for your employees and reduce incidences of injuries and strains associated with manual handling.
How do I select the right type of roller conveyor?
The type of roller conveyor you require depends on the application, the environment the conveyor will be used in, as well as the material, size, and weight of the items to be transported. This information helps us to determine things like the load rating required, the angle of the conveyor decline or power options, the materials used for the frames and rollers, and also the roller pitch.
If you need help choosing a roller conveyor please contact us for free advice and product quotations.
What does roller pitch mean?
The roller pitch is the distance between the centre of each roller, on a gravity conveyor, a larger pitch means items will move faster as there is less surface friction. We recommend that you have the pitch set so at least three rollers are in contact with the product you are transporting for the conveyor to work correctly, if you don't the items may not move forward and just sit on the rollers or get stuck. This is why it's a good idea to base your roller pitch on the dimensions of your smallest items.
Do I need a special type of roller conveyor if I'm working with food?
For hygiene purposes in food & drink, cosmetics, and pharmaceutical applications, stainless steel framed roller conveyors with PVC or stainless steel rollers are used as they can be thoroughly cleaned.
Do you manufacture roller racking & storage shelving?
Yes, we can manufacture gravity roller racking for carton flow, FIFO & LIFO storage. These are custom-made to order to meet your size and capacity requirements.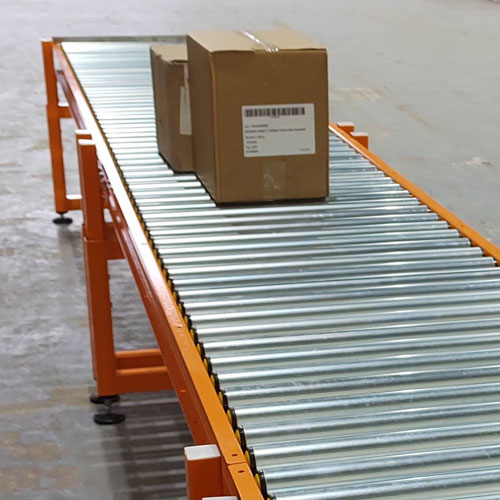 Case Study
Complete packing & dispatch area re-design
Find out how we re-designed and manufactured a packing area complete with belt and roller conveyors. This has led to a vast improvement in the companies order packing process.
Roller Conveyor Gallery
All the conveyors shown below were manufactured for our customers in our UK based factory.
Working With Us
SPG Conveyors are used daily by a wide range of third-party logistics, manufacturing, food production, and product assembly businesses in the UK.
We offer tailored solutions to suit our customers' needs:
Subcontract conveyor manufacturing
Happy to work with resellers and OEMs
If you need modular conveyors for your business then please contact us by phone, email, or try out the live chat feature for a free no-obligation quotation.
Call:01482 363445
Email: sales@conveyorsystems.co.uk