Home » Roller Conveyors » Powered Roller Conveyors » Lineshaft Conveyors
Lineshaft Driven Roller Conveyors
We manufacture stand alone lineshaft roller conveyors for integration as well as complete roller conveyor systems
Lineshaft roller conveyors are a type of powered roller conveyor often used in warehouses, distribution centres, assembly & process lines, and many other environments for transport and accumulation.
Each conveyor can be made bespoke to order, however we have a large stock of lineshaft roller conveyors ready for fast delivery.
We also manufacture 24V Powered Roller Conveyors.
All equipment is UKCA or CE marked
Please contact our helpful sales team with your requirements.
Lineshaft Driven Roller Conveyor Features
All lineshaft conveyors are delivered fully assembled and wired complete with manuals or installed by our team.
A great solution for transporting flat bottomed cartons, rigid boxes or totes.
This type of roller conveyor uses a series of bands to link the rollers to a spinning shaft below, as this spins the friction on the bands drives the rollers.
| | |
| --- | --- |
| Conveyor Load | Up to 50kg per metre |
| Conveyor Speed | 10 to 30 m/min |
| Roller Options | Mild steel, zinc plated rollers |
| | |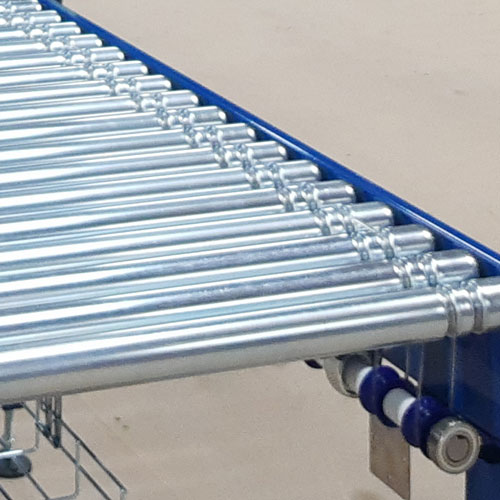 Get a FREE Lineshaft Conveyor Quote today
We are the leading UK manufacturer of Lineshaft Conveyors
Email sales@conveyorsystems.co.uk with your enquiries
Lineshaft Conveyor Gallery
All the conveyors shown below were manufactured for our customers in our UK based factory.
Working With Us
SPG Conveyors are used daily by a wide range of third-party logistics, manufacturing, food production, and product assembly businesses in the UK.
We offer tailored solutions to suit our customers' needs:
Subcontract conveyor manufacturing
Happy to work with resellers and OEMs
If you need modular conveyors for your business then please contact us by phone, email, or try out the live chat feature for a free no-obligation quotation.
Call:01482 363445
Email: sales@conveyorsystems.co.uk