Home » Roller Conveyors » Powered Roller Conveyors » 24V Powered Roller Conveyor
24V Powered Roller Conveyors
We manufacture stand alone 24v roller conveyors for integration as well as complete roller conveyor systems
Powered roller conveyors are used in warehouses, distribution centres, assembly & process lines, and many other environments.
Our conveyors can be made bespoke to order, however we have a large stock of roller conveyors ready for fast delivery.
All equipment is UKCA or CE marked.
Please contact our team with your enquiries.
24V Powered Conveyor Features
24v Powered Roller Conveyors are a great solution for transporting flat-bottomed cartons, rigid boxes or totes.
This type of powered
roller conveyor
uses self-contained 24-volt motors to drive groups of rollers.
With fewer moving parts than traditional motors, these self-contained motors are therefore safer and require less maintenance.
We also manufacture other types of powered conveyors including lineshaft-driven roller conveyors and pallet conveyors.
| | |
| --- | --- |
| Conveyor Load | 0 to 50 kg/m |
| Conveyor Speed | 1 to 60m/min |
| Roller pitch | 75mm, 100mm, 125mm, 150mm |
| Operating temperature | +5° to 40°C |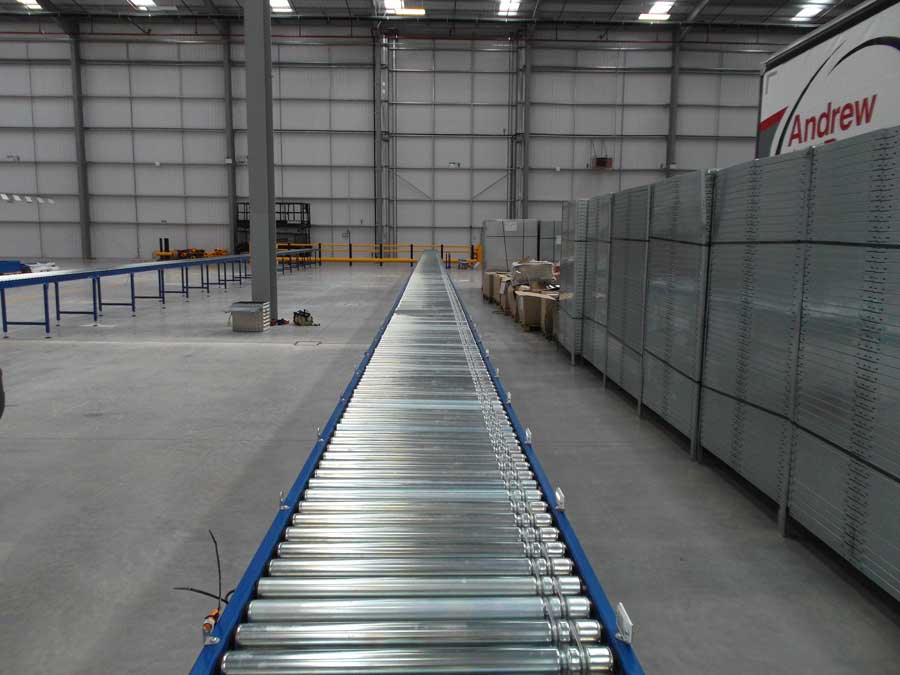 Get a FREE 24V Powered Roller Conveyor Quote today
We are a leading UK manufacturer of 24V Powered Roller Conveyors
Email sales@conveyorsystems.co.uk with your enquiries
Zero Line Pressure Driven Roller Conveyor Example Video
Powered Rollers can be used to create Zero Line Pressure Conveyors (ZLP)
These efficient powered roller conveyors are ideal for carton and tote handling where the products need to stop at specified areas in the conveyor system.
In this case photoelectric sensors (PEC) are used to detect when the crate reaches the stopping point, and the rollers in that zone will stop turning to halt the product.
They are ideal for accumulation and transport applications.

24V Powered Conveyor Gallery
All the conveyors shown below were manufactured for our customers in our UK based factory.
Working With Us
SPG Conveyors are used daily by a wide range of third-party logistics, manufacturing, food production, and product assembly businesses in the UK.
We offer tailored solutions to suit our customers' needs:
Subcontract conveyor manufacturing
Happy to work with resellers and OEMs
If you need modular conveyors for your business then please contact us by phone, email, or try out the live chat feature for a free no-obligation quotation.
Call:01482 363445
Email: sales@conveyorsystems.co.uk