Home » Roller Conveyors » Roller Inspection Table
Roller Inspection Tables
We manufacture stand alone roller inspection tables for integration as well as complete conveyor systems
Roller inspection tables are ideal for in-process visual inspection of products, they are commonly used in food packing and production environments.
These tables are fitted with gently rotating plastic or stainless steel rollers, producing maximum visibility of any product defects.
With widths available from 500mm to 1200mm, we offer a reliable, robustly manufactured product roller inspection table which can as a result be used as a stand-alone unit or integrated within a process line.
All equipment is UKCA or CE marked.
We manufacture to all types of roller conveyors to meet your specific requirements so please contact our team with your enquiries.
Inspection Table Features
All roller inspection tables are manufactured to your suit your specifications.
There is a wide variety of options available however our standard specifications are:
| | | |
| --- | --- | --- |
| 30mm diameter roller | 1 1/2" pitch | 8mm gap |
| 50mm diameter roller | 2" or 2 1/2" pitch | 11mm or 13mm gap |
| 60mm diameter roller | 3" pitch | 16mm gap |
Working heights are set to suit your specific needs.
We can also include LED inspection lights for greater visibility, as well as built-in black light for more in-depth product inspection.
Waste handling can also be fitted to take away the waste product from the process line.
All roller inspection tables are supplied with a geared motor drive, with inverter control to provide variable speed, and your choice of conveyor roller type.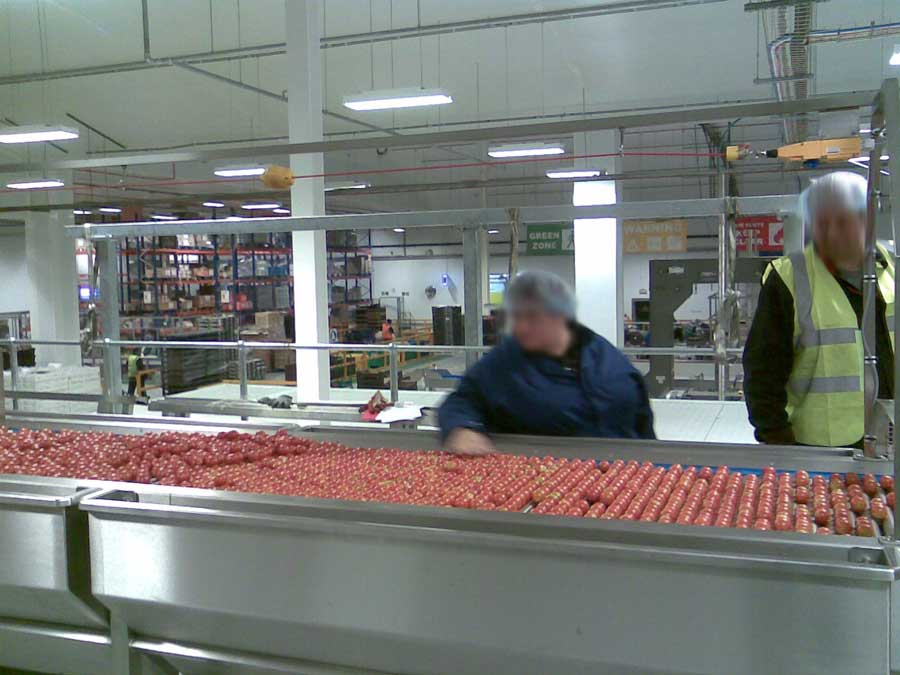 Get a FREE Roller Inspection Table Quote today
We are a leading UK manufacturer of Roller Inspection Tables
Email sales@conveyorsystems.co.uk with your enquiries
The ideal solution for product inspection
Watch the video to see how the roller inspection table works to gently rotate and jumble products so they can be manually sorted.
Made to suit your products
Installed by our team
Integrate with other transport and packing conveyors
Durable and long-lasting
Used by suppliers to UK supermarkets
Working With Us
SPG Conveyors are used daily by a wide range of third-party logistics, manufacturing, food production, and product assembly businesses in the UK.
We offer tailored solutions to suit our customers' needs:
Subcontract conveyor manufacturing
Happy to work with resellers and OEMs
If you need modular conveyors for your business then please contact us by phone, email, or try out the live chat feature for a free no-obligation quotation.
Call:01482 363445
Email: sales@conveyorsystems.co.uk